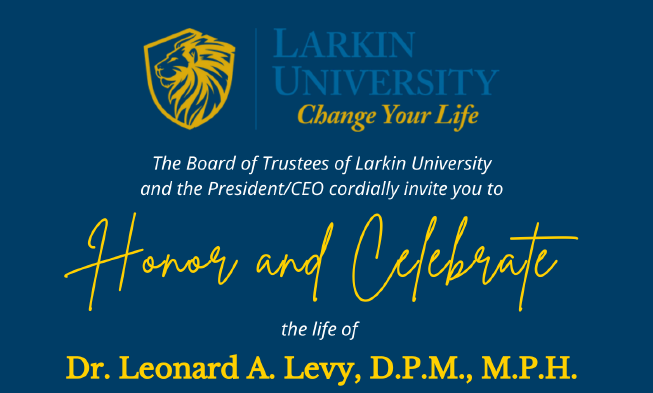 On Monday, November 13, 2023, the Board of Trustees of Larkin University and the President/CEO invited our community, friends and supporters to honor and celebrate the life of Dr. Leonard A. Levy, D.P.M., M.P.H., a lifelong leader and tireless champion of innovation in medical education and research. Together we remember the various stages of his professional career, his major contributions to medical education, health professions and to the scientific community through the eyes of those who worked closely with him. Last but not least, we feature exciting ongoing research resulting from the strategic plan that he spearheaded and developed for Larkin University in his last years. The symposium is followed by an Opening Ceremony of the Leonard A Levy Research Laboratory at Larkin University with attendance by the Levy Family followed by a reception in his honor.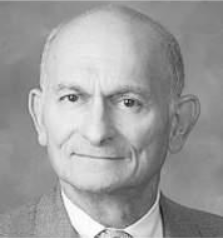 Dr. Leonard A. Levy, D.P.M., M.P.H. (1935-2023) was born in New York. graduated of Thomas Jefferson High School, New York University, NY College of Podiatric Medicine, and Columbia University, where he was the first podiatrist to receive an M.P.H. degree. A lifelong leader and tireless champion of innovation in medical education, beginning as dean and later president of the California College of Podiatric Medicine, he also held senior positions at SUNY Stony Brook, University of Texas-Houston, and was founding dean of the College of Podiatric Medicine and Surgery at the University of Osteopathic Medicine and Health Sciences in Des Moines, Iowa. A Fulbright Scholar at Comenius University in Bratislava, Slovakia, he maintained relationships there with faculty and exchange students. He retired in 2016 as professor emeritus from Nova Southeastern University College of Osteopathic Medicine. Even in retirement, he continued writing, lecturing and mentoring in the health professions and served on the Larkin University Board of Trustees where he led the research committee that developed research strategic planning. Over his long-lasting career he played an influential role in the lives of many of us and will forever be remembered as part of the legacy of Larkin University. As a recognition of his influence of the shape of our University, the Larkin University Board of Trustees has decided to name the LU Research Lab in his honor Leonard A Levy Research Laboratory.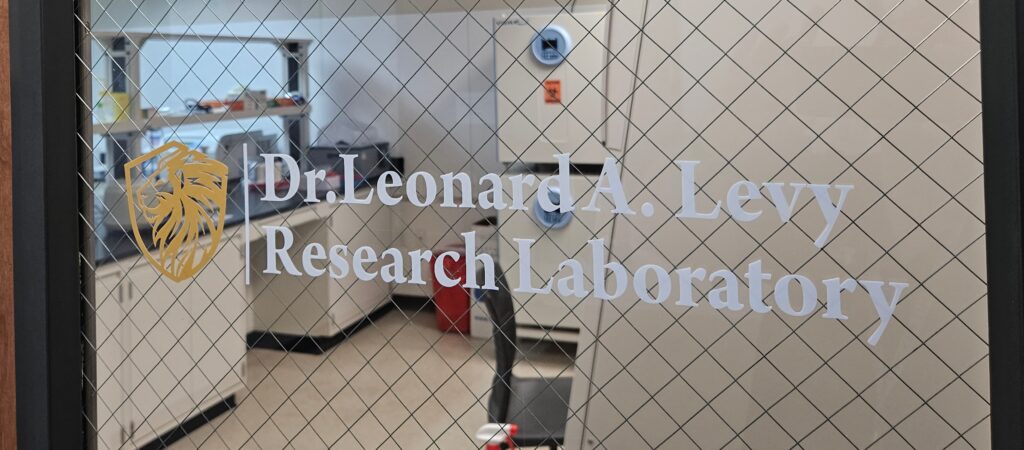 Program:
1:00pm-5:00pm Symposium (first floor, room 132)
1:00pm-1:10pm Welcome (President Rudi H. Ettrich)
1:10pm-1:35pm Anthony J. Silvagni, D.O., Pharm.D., M.Sc., FACOFPdist., FCPP, FAFPE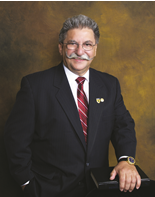 Dr. Anthony J. Silvagni served at the Nova Southeastern University Dr. Kiran C. Patel College of Osteopathic Medicine (NSU-KPCOM) in Fort Lauderdale, Florida. He served as the college's dean from 1998 through 2015 and as dean emeritus and director of international medicine until his retirement in April 2019, held the rank of professor of family medicine and professor of public health in KPCOM and clinical professor of pharmacy practice in the College of Pharmacy. Dr. Silvagni has a B.S. degree in pharmacy, an M.S. degree in pharmacokinetics and hospital pharmacy administration, a graduate Pharm.D. degree in 1970, and in 1982, received his D.O. degree. He is board certified in family medicine.
Dr. Silvagni is the recipient of numerous awards from academic, scientific, and professional organizations and committees, including being selected as a Harvard Macy Foundation Education Scholar in 1997. He was also named one of the Ten Leading Men in Miami-Dade, Broward, and Palm Beach Counties in 2004 by the Cystic Fibrosis Foundation. Other accolades include the Humanitarian Award by the Florida Grand Opera Society and the Physician Recognition Award from the Florida Board of Osteopathic Medicine. His most significant honors to date are the Lifetime Achievement Award from the Florida Osteopathic Medical Association in February 2006, Physician of the Year Award from the Florida Society of the American College of Osteopathic Family Physicians (FSACOFP) in 2006, and the NSU Academic Dean of the Year Award in April 2006. The American Association of the Colleges of Osteopathic Medicine (AACOM) awarded Dr. Silvagni the Dale Dodson Award in April 2019. This annual award is given to recognize a current or past CEO or CAO of an osteopathic medical college who has made significant contributions to the advancement and support of osteopathic medical education.
Dr. Silvagni has been an educator for over 50 years and has received multiple grants. His primary areas of research have been curriculum development, pharmacotherapy, and pharmacokinetics. He has practiced as a clinical pharmacist and a physician in rural, urban, and academic settings. He has also participated in the development of many innovative programs within such areas as health care delivery to rural underserved areas, Area Health Education Centers, contemporary medical education, international health care, and continuing education.
1:35pm-2:00pm Cecilia Rokusek, Ed.D., M.Sc.,RDN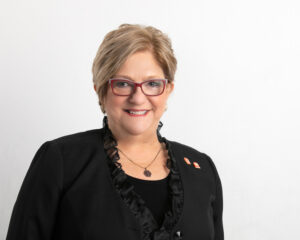 Dr. Cecilia Rokusek, B.Sc., M.Sc., RDN, Ed.D. is the President and CEO of the National Czech & Slovak Museum & Library. She spent her over 30-year career in academic medicine and public health, serving as a professor, dean, provost, and university CEO. She is a 4th generation "Czechoslovak". She grew up in the Czech community of Tabor, SD where her parents instilled in her a deep connection to and love for her cultural ancestry. For the past 12 years, Dr. Rokusek has served as the Florida Slovak Honorary Consul. She has been an educational consultant on interprofessional team building throughout the US and in Central Europe, including both the Czech and Slovak Republics. Dr. Rokusek has served as an international education consultant and has been involved in policymaking for the US, Slovenia, and Hungary. She continues to work closely with universities throughout the Czech Republic and Slovakia including Palacký University, Charles University, Masaryk University, and Comenius University. Dr. Rokusek is an avid writer and charismatic speaker on topics related to Czech and Slovak culture and heritage.
2:00pm-2:25pm Kallidaikurichi V. Venkatachalam, Ph.D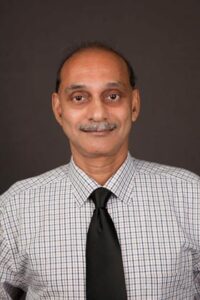 Dr. K.V. Venkatachalam, popularly known as Dr. Venk received his Ph.D. From Texas A&M university, Department of Biochemistry, College Station Texas in 1990 and moved on to do his Post Doctoral Fellowship at Baylor College of Medicine, Houston, TX. After fruitful publications in top journals like Journal of Biological Chemistry (JBC), he moved on to do his Intra Mural Fellowship at National Institute of Child Health and Human Development at NIH in 1993. He was also part of the graduate school of NIH and designed and taught courses for foreign graduate and post-doctoral students. After pioneering work on Molecular Biology and Biochemistry of Human PAPS Synthase 1 and 2b and fruitful publications in JBC he accepted the position at Nova Southeastern University as the Associate Professor position in 1999 with the college of medical sciences (CMS). He was involved with both research and teaching at NSU. In 2004/05 he was promoted to Full Professor position with former CMS. Since 2018 he has been with College of Allopathic Medicine at NSU. He continues direct, teach biochemistry course for master's in biomedical sciences and directs hematology and teaches for MD with various block courses. He still manages to do research with MD students and publishes periodically.
2:25pm-3:00pm Coffee Break (first floor, student lounge)
3:00pm-3:25pm Mohammad Nasir Uddin, Ph.D and Christiane Chbib, PharmD. PhD. "Exploring vaccine adjuvants: Analogues of bacterial quorum sensing precursor molecules as potential vaccine adjuvants"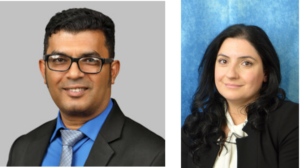 Dr. Mohammad Nasir Uddin, PhD. is an assistant professor of pharmaceutical sciences at Mercer College of Pharmacy. He holds an M.S. from Jahangirnagar University, Dhaka, Bangladesh, a M.S. from Emory University and a Ph.D. from Mercer University. His research interest focuses on developing a quickly soluble film-based delivery system to deliver small molecule drugs or vaccines via buccal or sublingual administration. Dr. Uddin seeks to develop highly efficient, cost-effective and patient-compliant film dosage forms of vaccines for cervical cancer. Film-based vaccines are prepared using bio-degradable, bio-compatible and non-antigenic polymers.
Dr. Christiane Chbib, PharmD. PhD. is an associate professor in pharmaceutical sciences at Larkin University COP. She holds a B.S. from the Lebanese American University in Beirut, Lebanon, and a Pharm.D. (ACPE-accredited program) from the same institution. Additionally she holds a Ph.D. in Medicinal Chemistry/ Biochemistry from Florida International University, Miami, Florida. Dr. Chbib's primary research goals are directed towards designing and synthesizing new chemical molecules with therapeutic activity. Her research interests are directed towards targeting the quorum sensing process in bacteria. Dr Chbib's research involves optimizing dissolution and quantification techniques of multiple drugs in blood/plasma samples using analytical techniques in her laboratory at LU. She is actively collaborating with the Vaccine Nanotechnology Laboratory and Center for Drug Delivery Research at Mercer University to evaluate the immune potency of new synthetic molecules for the development of new vaccines to prevent different types of infections.
3:25pm-3:50pm Thomas A Edwards, Ph.D "Structure and function of RNA binding proteins from pathogenic viruses"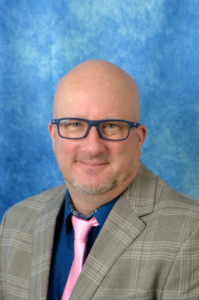 Dr Thomas A Edwards, PhD. is a professor of biomedical sciences at Larkin University COBS. He holds a 
B.Sc. in Biochemistry with first class honors and a Ph.D. in  Biochemistry from from Bath University, UK.  He held research positions at Bowman Gray School of Medicine, Winston-Salem, NC, Bath University. UK, and Mount Sinai School of Medicine, NY, USA, where he also was Research Assistant Professor.  As associate professor at the University of Leeds, UK he focused on research on structure of RNA binding proteins, X-ray crystallography, protein-protein and protein-nucleic acid interactions and structural molecular biology.
Dr. Edwards has 20 years of experience in teaching and research in a University environment and supervised 29 graduate students through to a Ph.D. He has been principal- or co-Investigator on grants focused on structural & chemical biology and virology worth >$16million and published 70 peer-reviewed manuscripts. At the University of Leeds (2005-2022) he served as Deputy Head of the School of Molecular and Cellular Biology (2018-2021); Deputy Director of the Astbury Centre for Structural Molecular Biology (2012-2018), and on the School Management Committee (2008 – 2022). Dr Edwards joint Larkin University in September 2022.
3:50pm-4:15pm Prashant Sakharkar, PharmD, MPH. "Assessing agreement between the DBC algorithm and i-STAT POCT device for a set of blood values"
Dr. Prashant Sakharkar, PharmD, MPH, is Director of the Graduate Program in Social and Administrative Sciences and Associate Professor in the Department of Clinical and Administrative Sciences at Larkin University College of Pharmacy. Dr. Sakharkar earned a Doctor of Pharmacy (PharmD) and Master of Public Health (MPH) from the University of Florida and later he went to pursue a Postdoctoral Fellowship in Health Outcomes Research at the College of Pharmacy, Western University of Health Sciences. Dr. Sakharkar served on the editorial advisory board of JAPhA and served on the American Society of Health System Pharmacist (ASHP) Pharmacy Practice Research Review Committee for past several years. Dr. Sakharkar's research focuses on economic evaluation of drugs and treatments, health outcomes and healthcare services research and evaluation of health policy.
4:15pm-4:40pm John Fetse, B.Pharm., M.Phil., Ph.D., "Development of Smart Drug Delivery Systems for Cancer Immunotherapy "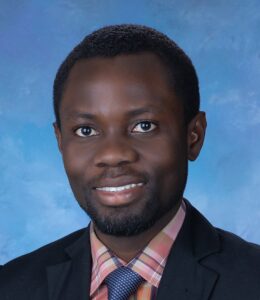 Dr. John Fetse,  B.Pharm., M.Phil., Ph.D. is an assistant professor of Pharmaceutical Sciences at Larkin University College of Pharmacy. His academic journey began at Kwame Nkrumah University of Science and Technology (KNUST), Ghana, where he earned his Bachelor of Pharmacy (B. Pharm) and later pursued a Master of Philosophy in Pharmaceutical Chemistry (M. Phil.). Subsequently, he completed his PhD in Pharmaceutical Sciences at the University of Missouri-Kansas City, USA. Dr. Fetse's research endeavors have led to remarkable achievements, including the acquisition of two patents and several publications in renowned journals. His ongoing and future research is focused on the development of advanced drug delivery systems for targeted delivery of peptides, proteins, nucleic acids, and small molecules. He utilizes cutting-edge technologies like artificial intelligence (AI) and machine learning (ML) to tackle challenging drug development issues.
5:00pm-6pm Opening Ceremony of the Leonard A Levy Research Laboratory and Unveiling of the Memorial Plaque (at the Lab entrance, first floor)
Eleanore Levy, Wife of Dr. Levy; Dr. Mark Kent, Chairman of the Board of Trustees; Dr. Jack Michel, Founder of Larkin University and Dr. Rudi Ettrich, President & CEO, will guide through the ceremony.  
6pm-8pm Reception in honor of Dr. Leonard A Levy (first floor, student lounge and Kent family study room)